Pinocchio meets Frankenstein in this dark fairy tale retelling where a young girl is commissioned to build an assassin for a dark-hearted tyrant.
Impressed by the work of the puppetmaster and his apprentice, Tavia's ruler, The Margrave, has ordered dozens of life-size marionette soldiers to be sent to Wolfspire Hall. When the orders for more soldiers come in with increasingly urgent deadlines, the puppetmaster's health suffers and Pirouette, his daughter and protégé, is left to build in his stead. But there is something far more twisted brewing at Wolfspire—the Margrave's son wants Pirouette to create an assassin. And he wants her to give it life.
With Tavia teetering on the brink of war and her father dying in the dungeons, Pirouette has no choice but to accept. Racing against the rise of the next blue moon—the magic that will bring her creations to life—she can't help but wonder, is she making a masterpiece…or a monster?
The Puppetmaster's Apprentice follows Pirouette, a Pinocchio figure whose puppetmaster father brought her to life by the magic of the blue moon. They are ordered by the Margrave of Tavia, the town where they live, to build life-like wooden soldiers for his son, the Duke. The old puppetmaster Gep's health is failing, but the Margrave's orders won't stop coming.
Apart from her father, Pirouette has a tight-knit group of craftsmen, various makers of Tavia, glassblowers, clockmakers, blacksmiths and potters who are also burdened by the Margrave to create weapons and clothes for the wooden soldiers Piro and her father are building. I loved the found family aspect of the Maker's Guild, and I don't know why, but whenever puppets or theater troops or something akin to this are a part of a fantasy plot, it hooks me in right away. This was no different. I just find it adds so much to the atmosphere.
Piro wants only to finish the Margrave's orders in time and continue living a quiet life with her father. But Piro has a secret – no one can know the magical origins of her birth, not even Bran, the tailor's son who she is increasingly drawn to. Keeping this secret is made harder by the fact that a violent and painful splinter protrudes from her body for each lie she tells.
"A puppet's pull goes far beyond its strings."
I was intrigued when I saw this book being pitched as Pinocchio meets Frankenstein. Pinocchio is arguably less utilized when it comes to retellings and DeSelm shows us why this is a shame. She incorporates elements from Pinocchio and Frankenstein while still crafting a story of her own. By highlighting the dark elements of both stories (seriously, I want to see this author tackle a full-on horror novel someday!) and melting them in a pot of old fairy tales and ancient magic, The Puppetmaster's Apprentice have become something unique. The plot isn't twisty, so it's not a dense read. But it is definitely more character-driven, which is a plus!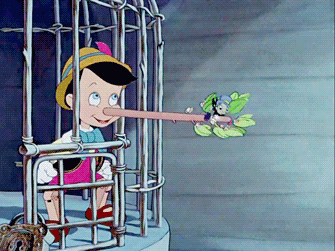 I've enjoyed the elements of puppetry and craftsmanship in the story, and there was something magical about the writing, something fairytale-like, that didn't give up the threads of the plot that were sort of glossed over as I was reading it. It was only after I finished The Puppetmaster's Apprentice that I really thought about how Piro forgave Bran so quickly for betraying his father, and how the village folk, who are supposed to shun Piro and treat her with caution after the Margrave's proclamation, seemed not to mind her after the events of the book's ending. These kinds of conflicts stopped being conflicts when they were explained away with one or two sentences, or with Bran lashing out at Piro and defending himself by saying he did it to protect her somehow.
As I said, the fairy tale quality of the writing helped to gloss over parts of the story and made for an enjoyable reading experience despite them.
Also, how cool and telling it is that we had a blue moon right when I was still reading this book? I don't know, but it sure looks like a sign to me. Maybe I should have gotten my marionette ready 😉
This review was originally meant to be a part of the wonderful Caffeine Tours blog tour so please be sure to give the other bloggers in the tour a read. Thank you to Page Street YA and NetGalley for the e-ARC!
The Puppetmaster's Apprentice is Lisa DeSelm's debut novel, and it came out on 13th of October!
Links: Amazon/Book Depository/Goodreads